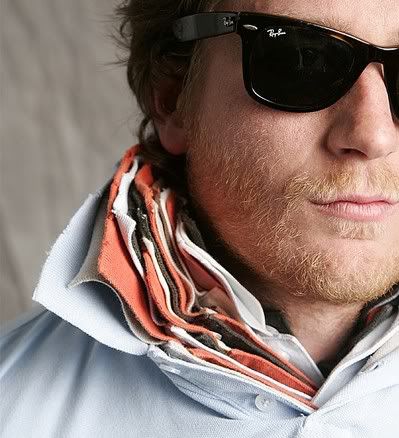 HERE ARE MY FAVORITES:20. Morehouse
Home of:
The Fonzworth Bentley Douche
A peek inside:
Is it possible to be in the International Leadership Program while also being president of Alpha Phi Alpha while also getting all militant about the white power structure while also promoting a biweekly hip-hop showcase? Yes? Then you're just barely keeping up with the status quo at Morehouse—good luck getting into Yale Law!
Affectations:
Yellow V-neck sweater with orange-and-blue bow tie; box-seat double date to Coldplay show at Philips Arena.
Most likely to:
Be a lawyer by day, black socialite by night.
19. Ohio State

Home of:
The Excessive-School-Pride Douche
Affectations:
Dressing for class each morning as if you were the offensive-line coach; writing prison letters to Maurice Clarett.
Overheard at Buckeye career-building workshop:
"You can put 'Won a national championship' on a résumé, right?"
Most likely to:
Suffocate a hapless Boilermakers fan with a giant foam Number One after offhand comment about how the marching band's "Script Ohio" wasn't all that impressive.
Honorable-mention excessive-school-pride institutions:
Duke, Michigan, Texas, Penn State, Yeshiva University.
18. Boston University
Home of:
The Future Marketing Executives of America Douche
Most likely to:
Major in communications and take it seriously.
Overheard at the "Winning in a Down Time: How to Brand Yourself" seminar aftermingle:
"CHUG! CHUG! CHUG!"
Thesis topic:
"Those Axe Ads: Totally Funny, Bro."
16. USC
Home of:
The Giant-Sunglasses Douche
Affectations:
Audi Q7 (high school graduation present); tertiary connection to Olsen twin; frosted tips.
Thesis topic:
"Steven Spielberg's Gremlins and the Art of the Impossible."
Ten years from now, will be:
Living in Laurel Canyon while "producing" a bio-pic on Karch Kiraly and burning endless pounds of the kush.
Honorable-mention crazily expensive institutions:
Duke, Tulane, Bennington, Hamilton.
14. Arizona State

Home of:
The "Show Us Your T*ts!" Douche
Most likely to:
Inadvertently find an Internet picture of that girl from your Robert Ludlum seminar, sunburned and topless while vomiting a melon-ball shooter through her nose.
Favorite pickup line:
"I like your boobs."
Profiles in studentia:
Roger McFeelings,~ Cincinnati. "I had such an awesome time in Cancún. I got really tan, the girls were hot, and the Ecstasy was almost pure. I was like, I wish Cancún was a college! Then I realized, it is!"
Honorable-mention "show us your t*ts!" institutions:
Duke, any state school in Florida or Arizona, U. of Delaware, Dartmouth.
~We only wish there were someone named Roger McFeelings.
11. NYU
(I thought of PC from "NYC Prep" when I read this!)
Home of:
The "Yeah, I Did That When I Was 17" Douche
Affectations:
White Wayfarers; vintage New York Dolls T-shirt; high-concept hat; complaining about how New York City is so gentrified now.
In ten years, will be:
Still talking about how you did that when you were 17
7. Amherst College
Home of:
The "I Went to a Small liberal-arts College in Massachusetts" Douche
Affectations:
Quiet sense of superiority; intense desire to be surrounded by 1,700 people almost exactly like you; Choate soccer jacket.
In ten years, will be:
Smart policy guy at State Department that no one listens to.
Douchey mascot:
Lord Jeffrey Amherst.
Problem with douchey mascot:
Distributed smallpox-infested blankets to Native Americans.
5. Deep Springs
Home of:
The "I Went to a School So Exclusive, Only Six People Know About It and Half of Them Are So Smart They're Clinically Insane" Douche
Affectations:
Castrating horses; translating Latin; vows of silence.
A peek inside:
The campus is a ranch and alfalfa farm near Death Valley, each class has no more than fifteen men, and students spend their time reading Infinite Jest, Remembrance of Things Past, and a little volume by the college's founder (called The Gray Book) that's all about hearing the "Voice of the Desert."
Douchey founder:
Lucien Lucius Nunn, who moved the college to the middle of nowhere in California in 1917.
Problem with douchey founder:
Some people thought he was a little too interested in the young students.
-----------------------
http://men.style.com/gq/features/slideshow/v/0909COLLEGE?loop=0&iphoto=24&nphoto=25&play=false