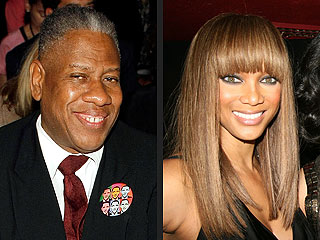 Vogue's
André Leon Talley Joins America's Next Top Model

It took a while, but after 13 cycles of America's Next Top Model, Tyra Banks has finally convinced Vogue editor-at-large André Leon Talley to take a seat at the judges' table.
Talley, 60, a heavyweight in the fashion world for decades, was one of the first people Banks approached eight years ago when she was planning Top Model. "At that point, I said no because it was the beginning. I was thinking I wanted to see where it goes," he tells Women's Wear Daily.
Of course, the show has been a sensation. And now Talley, who says he's never actually seen the show, has signed up for three cycles — beginning with cycle 14, which premieres March 10 on the CW. At the judges' table, he succeeds runway coach J. Alexander, who will focus again on working with the contestants.
"I felt maybe I could contribute something to it that had not been on the show," Talley says. "I just felt that it was a way to step out of the box and associate myself with a very important American success story, a very important brand — Tyra Banks."
For her part, Banks says Talley will help steer the show in a more high-fashion direction. "André speaks about fashion and he has such a passion, and the words — the adverbs, the adjectives — he uses!" she says. "I know it's going to make the viewer at home go, 'Wowww.'" She adds, "It might go over their head, but he's educating them about a time, bringing them back to a place when fashion was life." –Tim Nudd
This may give AMTM the credibility it so desperately needs. Will there actually be an American next top model now? We'll see! Andre is part of the creme de la creme of fashion, and he can provide a great realistic approach to the show.