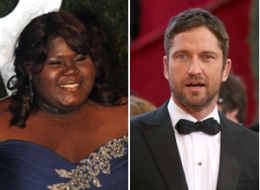 Nevermind dumbass Howard Stern's appaling comments about the OSCAR NOMINATED starlett: "
There's the most enormous, fat black chick I've ever seen
. She is enormous. Everyone's pretending she's a part of show business and
she's never going to be in another movie
. She should have gotten the Best Actress award because she's never going to have another shot. What movie is she gonna be in?
Oprah's another liar, a filthy liar
. She's telling an enormous woman the size of a planet that she's going to have a career"
'Cuz Gabby already is lined up to appear on the new Showtime series 'The C Word' and her next big-screen appearance will be opposite Zoe Kravitz in the drama 'Yelling to the Sky.' That's right.
Why I love her is because she is

CONFIDENT

. More confident than I am & ever was... and it's inspiring!!

For instance, in response to Chris Rock grabbing her butt at the NAACP Image Awards a couple weeks ago, she said this:
"Some dudes gotta have it – it's my own fault for being too damn fine."
ha!
& recently on the Oscars red carpet, when asked about Gerard Butler by Access Hollywood, the actress said this (IN FRONT OF MR. BUTLER!):
"I'd hit that. I'm not ashamed. I'd hit that. I'm sorry."
lol! You go girl! Being that Gerard Butler is one of my main celeb crushes, I say MAZEL TOV!