first off,
Demi Lovato confirms she's dating Joe Jonas
!!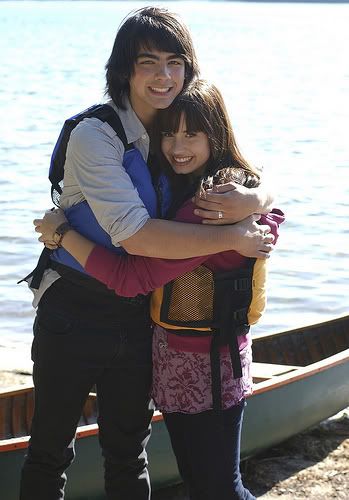 During an interview with Access Hollywood's Billy Bush on his radio program, The Billy Bush Show, the host asked Lovato if she'd ever dated any of the Jonas Brothers, "Umm, maybe," she said coyly.

"Which one? Joe?" asked Bush, to which Lovato said, "Yeah. He's actually… he's my best friend." Pressing for clarification, Bush said, "So you guys went from boyfriend-girlfriend to best friends?"

"No kind of the opposite," the 17-year-old Sonny with a Chance star explained.

"Oh? So you're dating him now?" asked Bush.

"Umm, yeah he is my best friend and he is incredible," Lovato finally confessed.

Lovato described her Camp Rock 2 costar as a "complete gentleman," who "treats me to the most amazing places."

She added, "He's perfect."

awwww! yay, I like them both so I don't object to this at all. They're perfect for each other!

also, Marvin Humes of JLS has confessed he's dating The Saturdays' Rochelle Wiseman!!


I kind of don't like it when couples look like brother & sister... is it 'cuz they have the same skin tone? lol

"To clear it up - we went on a date," Marvin told the UK's MTV, "we've been on a couple of dates now. She's been to see the show. She's a great girl and we take one day at a time. It's all good!"

OMG!!! Ok, I'm "fan-girling" on this one. Ewww, this article with Marvin came out on the 5th, why haven't I read it? If you follow my blog, you'd know that I LOVE Marvin. I also love the girl group, The Saturdays. So, I'm happy two amazing members of two amazing bands are starting to date... BUT... I think he can do better. Maybe because I think he's just so fine? Rochelle is pretty, but not thaaaat pretty. I will admit I'm just being an envious hater, lol... Go Rochelle! You just snagged you a stunner!

lucky trick gets all of this...
I still think Marvin & Alexandra Burke should be a couple! :) So adorable.