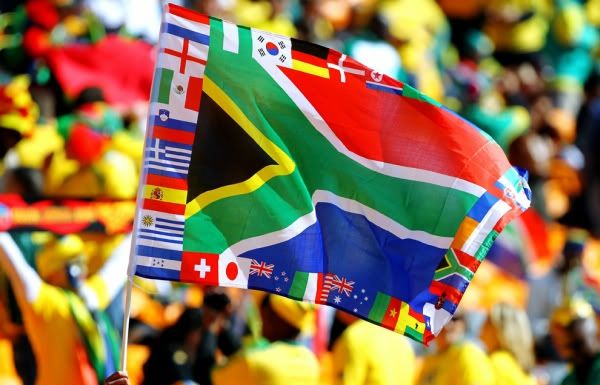 It's been an electrifying, emotional, funny and infuriating past four weeks since the start of the FIFA World Cup in South Africa. Every facet of my life has been affected by this global phenomenon. I have been financially, emotionally and mentally spent and it's been worth it. My own blog has suffered in its lack of posts! Websites like ontd_football and kickette have been giving me life for the past 4 weeks (as they usually do)—due to the lack of football fanatics in my social and familial circles. As an ode to what has breezed by, here are memorable moments, memes, the best and worst, etc. of the World Cup!
- Vuvuzelas! The bane of existence for fans and players alike, but I loved them! Sure, nothing beats the sound of chanting fans, but for a country to represent the way they celebrate at a tournament as major as the World Cup is amazing!
-
The fans!
They best part of any competition besides the action on the pitch. Their energy, enthusiasm, costumes, etc. kept the tournament alive and kicking in its darkest and brightest times!
-
Paul the Octopus!
The least likely celebrity of this WC is the psychic octopus that predicted the winner of 8 (like the number of its tentacles!) games correctly! My faith in this sea creature skyrocketed after it correctly predicted Spain would win over Germany, the octopus' home. Long live el pulpo!!

THINGS I WON'T MISS
-
THE REFS. This WC was marred by horrendous calls. Despicable. Disgraceful. Potential game-changers. I teared up, screamed, etc. at the calls made, or those NOT made, during this WC. Which in particular you ask?! USA's TWO disallowed goals. Wooo, I raged so hard for the first one especially. So did the rest of the world. The CLEARLY offside goal made by Carlos Tevez during the Argentina v Mexico game. Poooor Frank Lampard's disallowed goal during the England v. Germany game. Goal-line technology PLEEZ, Sepp Blatter!!!

- BS RED CARDS. Another ref-centered dislike about some WC games--the red card decisions. Three in particular stand out to me because of their sheer ridiculousness and unfairness: Kaka in the game against the Ivory Coast (you would have thought the ref had something personal against poor Kaka), that red card to the Chilean player for what he "did" to Fernando Torres, and Australia's Tim Cahill's super harsh red card for his tackle against Bastian Schweinsteiger (the latter who believed Tim did not deserve the red card... maybe you shouldn't have dived the way you did bb!).
On to the award portion...

BIGGEST TEAM FAIL
Is this even a question?? France, by a mile. Insults, throwing of badges, strikes, cancelling practices, losing to South Africa, name-calling, etc. France is brimming with talent, but what they had more of was disgusting egos and apparently, high school mentalities. What a shame to go out in the fashion they did. Clearly the hottest mess of the entire tournament.

MOST *FACEPLAM* WORTHY MOMENT
I feel like this happened ages ago, that's how early it happened in the WC. Poor Robert Green had the entire world ridiculing him for his yikes moment at the WC. It was great and lol-worthy for the US, but not so great for England. At least we got a lot of laughs from it and an epic David Beckham meme from it?!

MOST HYPED UP GAME
Clearly the award goes to the USA-England game. I was literally shaking and sweating before this game even started knowing I had major loves on either sides. The media had a field day with the epic match-up as well, with the lulzy headlines coming from both American and English newspapers.
MOST DISAPPOINTING TEAM/PLAYER

Team - Italy. although this could many teams, I was disappointed by Italy's performance. They were the reigning champs for Pete's sake! I know they had to take a lot of flack for being "old", but hell, not even making it out of the group and losing to Slovakia?! They need some serious rejuvenating asap. It was hard to watch such prominent players crash...
Player - Wayne Rooney. Wayne bb, we were rooting for you, we were all rooting for you!! Again, I had a lot of choices for this one, but Wayne stood out most for me. Like, what did he do. Messi at least set up lots of goals. Drogba had a chance or two and was injured. Ronaldo at least made one goal. Torres... let's not talk about him. He was injured! I know Rooney led his club team almost single-handedly and was tired but what happened?! His quote summed up his, and England's, poor performance this WC.
"Nice to see your own fans booing you. That's what loyal support is."

BEST COMEBACK GAME
USA - SLOVENIA!!!!! Jesus Christ that game had me on the edge of my seat like no other. 2-0 at half time, to draw 2-2 at the end!! The goals had me screaming, the now disallowed goal had me near-crying, the satisfaction of coming back to still be alive in the tournament was immense. I love my USMNT boys.

BEST GOAL CELEBRATION(S)
First place goes to South Africa in the WC opener. Truly amazing and exciting!

Second place goes to Ghana for their "ayyyeee!"-worthy celebration! Wish I was with those boys getting down like that.

BEST GOALS
There were so many mint goals, including perfect free kicks and flawless headers but I have FOUR in mind:

- Maicon's goal in the Brazil v. North Korea game. He finally broke through their defense and scored a very pretty goal on top of that.

- Landon Donovan's winning goal against Algeria. Without the goal, the USA would have gone home... It was in the last minutes of ADDED TIME and was completely euphoric!!

- Giovanni van Bronckhorst's killer strike from nearly the middle of the pitch during the Netherlands v. Uruguay game! It was amazing.

- Iniesta's goal in the Netherlands v. Spain final!!! Not the prettiest, but the steam I let off after the goal (the shaking and bawling) is so memorable.

WORST MISSED GOAL

MOST STRESSFUL GAME(S)

First place goes to USA v. Algeria. If USA lost, they would have gone home but after that immense goal, we finished first in our group! We had a disallowed goal and many chances, it was so frustrating and stressful to watch. I was literally on the edge of my seat watching.

Second place goes to Germany v. Spain. Shouldn't have been as stressed as I should being that I adore both teams, but I rooted for Spain way harder :) I couldn't sit down for a portion of the game, that's how jumpy I was. I just stood and watched.

The very close to second-place third place goes to the WC final itself. I could not physically watch some moments. My head was in my knees watching the duel between Holland and Spain, scared to see if my bbs would score just one goal to be crowned champs. And when they did, I let loose they only way I know how-- lots of screaming and bawling!!!! I'll never forget it!

Fourth place goes to all of Spain's other games. Esp. the Paraguay game with back-to-back penalty kicks, with Xabi Alonso's goal being disallowed and repeated. wooooooooo.

MOST RAGE-WORTHY GAME
Ghana v. Uruguay. Watching this in my hotel lobby during my vacay to San Jose was so entertaining but crushing at the same time. The length was unbearable and I came into the game semi-neutral, but leaning towards Ghana for African purposes. By extra time, I was team Ghana all the way. Then, the handball. Can I call it that if it was done on purpose/in that fashion?!? It was so against the philosophy of football. FOOT.BALL. Then the missed penalty. The Uruguayan goalie kissing the crossbar. Luis Suarez cheering while he was doing the "walk of shame." The loss on penalties. I never felt boiling and blatant anger for a match like that and I still get pissy thinking about it and Luis Suarez's quote:

"The Hand of God now belongs to me. Mine is the real Hand of God. I made the best save of the tournament."

Alright trick. It was the "hand of the devil" as Ghana's coach Milovan Rajevac said. Damn, but the good person in me felt bad for him during the Uruguay v. Germany game when the entire stadium booed at him. Yikes.

MOST ENTERTAINING TEAM TO WATCH
Germany, hands down. I love Spain, but they frustrated me more than excited me. Germany was top-class this WC and it's a shame they weren't in the finals. From the consistency of Klose, to the magic that is Muller, to the hard-working Schweinsteiger, Germany amazed me time and time again. Sure there were blunders along the way, but I was excited to watch all of their games and expected nothing but greatness from them. This generation of German players deserve trophies, so I hope they get the Euro 2012 title, if not WC champs in 2014!

MOST ENTERTAINING GAME TO WATCH
Mainly because of the slaughtering of the Argentines, a WC front-runner, I would have to say Germany v. Argentina. Argentina were exposed to say the least. Their defense was near non-existent and Germany took advantage of that. They beat them in such great fashion, with goals coming from different players and pretty set-ups by Bastian Schweinsteiger. It was just fun to watch as a German supporter!

THE DIDIER DROGBA "IT'S A F***ING DISGRACE!" AWARD FOR THE GREATEST "WHY WASN'T THAT A RED CARD." MOMENT
De Jong kung-powing Xabi Alonso!! 'nuff said.

BEST GOALKEEPER
My love Iker Casillas, tricks. He had critics during this last season at Real Madrid and was ridiculed for his performance in Spain's WC opening game. BUT he quickly changed minds and blocked goals left and right as the competition continued. I found myself shouting "THAT'S WHAT I'M TALKING ABOUT!!!" when he made saves, esp. that penalty kick save during the Paraguay game and all those saves during the final. BEAST!! Honorable mentions go to Portugal's goalie and bamf Tim Howard of the USA.
AAAAND THAT'S IT!!! Phew, that was long. Here's to a beautiful World Cup! Thank you South Africa for repping Africa hard and wonderfully and for hosting a successful, memorable WC!! Here's hoping I go to Brazil and watch this LIVE!!!